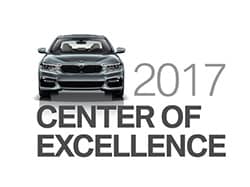 The dealers are measured against their peers on 11 Key Performance Indicators which include, Customer Orientation, Aftersales and Sales data. The data is then calculated to award the top 9% of the 340 BMW dealers based on their 2015 performance.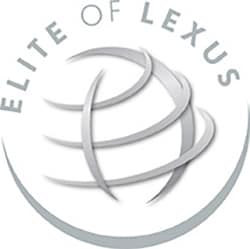 All Lexus dealerships achieving a minimum of 90.0% New Vehicle
Sales efficiency at calendar year-end as measured by Lexus on a rolling
12-month basis.
LEAGUE OF ELITE QUALIFICATION PROCESS
All winning Elite of Lexus dealerships will be sorted by new car sales
volume through year-end sales close.
Step #1:
Dealerships will be sorted by year-end new retail, non-fleet sales
volume.
Tier 1 - Top 50 volume dealerships
Tier 2 - Second 50 volume dealerships
Tier 3 - Third 50 volume dealerships
Tier 4 - All remaining dealerships
Step #2:
Using each Tier as a separate volume group, dealerships will
be sorted by an average Overall Satisfaction Survey score for
Sales and Service: (Sales Overall Satisfaction + Service Overall
Satisfaction)
÷
2.
60
winning dealerships will be identified
Tier 1 - 30 dealership winners
Tier 2 - 10 dealership winners
Tier 3 - 10 dealership winners
Tier 4 - 10 dealership winners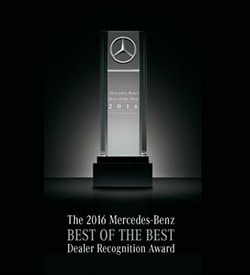 Mercedes-Benz USA recognizes only the top 22 percent of its retail network with the Best of the Best recognition. The award, which is presented annually, goes to top performing Mercedes-Benz dealerships for demonstrating superior performance in various areas of business, including:
Customer Satisfaction

New Vehicle Sales

Certified Pre-Owned Sales

Leadership and Management

Service and Parts Operation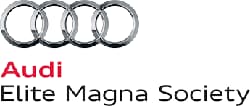 Annual Magna Society Award given to 93 dealerships nationwide

Each winning dealer ranks among the most outstanding Audi retailers in the U.S.

Magna Society dealers demonstrate superior customer service and business achievements
Audi honored 93 top-performing dealerships in the U.S. with the Magna Society Awards, a distinction for dealers who achieved excellent performance in 2015.

To earn Magna Society recognition, dealers must demonstrate an exceptional level of customer service as well as strong business performance.  Among the recipients, 12 dealerships were distinguished as 2015 Audi Magna Society Elite, a special honor for superior achievements.